Back to Stone Brook Last update: 06/11/08. Additions, corrections, clarifications? Please email. (Please indicate "Stone Brook" in body of message somewhere).
Events & Education
Please also check the Maine Sheep Breeders Association calendar/news page (off-site).
Denmark Sheepfest (annual event). April 19th will be the 9th, Denmark Arts Center, Rte 160 (50 West Main Street) in Denmark. It is a small town about 1 hour west of Portland, just below Bridgton. This event began as a service to small flock owners in the area and a way to educate people about sheep and wool. For more information: www.netherfieldfarm.com/SHEEPFEST2003.htm
If for some reason you can't get the site as written just go to www.netherfieldfarm.com and then click on Sheepfest 2003 and Sheepfest Story to see photos and read about the event.
Northeast Sheep and Goat Marketing -- Education Page
Maryland Small Ruminant Page -- Research and Education
List of videos available from Maine Cooperative Extension.
Some links to annual events
Maine Agricultural Fair Dates (page maintained by Maine Dept. of Agriculture)
Denmark Sheepfest (always the third Saturday in April)
Maryland Sheep and Wool Festival
Massachusetts Sheep and Woolcraft Fair
Maine Fiber Frolic
MSBA Wool Pool
Northeast Sheep and Goat Marketing Program Calendar (Cornell)
If you haven't been to a "sheep event" before, please remember that dogs are usually not allowed on fairgrounds, except for working dogs in the sheep dog events.
Calendar of upcoming shows and sales maintained by Breeders World (off-site)

Photo: beginning of sheepdog demonstration, David Kennard and his five attentive dogs
at Common Ground Fair (1999).
***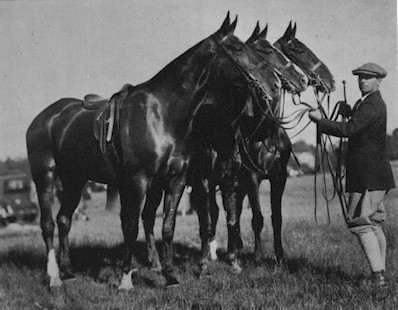 Photo from "Mostly Horses" by Natalie T. Hemenway.