Maine Farms with Rabbits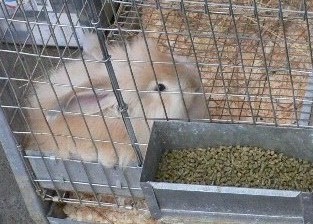 Photo taken at Fiber Frolic.

Note: the list below is out-of-date and is being updated. Plesase check back.
Acker's Acres Angoras. Beth Acker
Angora, German and German cross
359 Gloucester Hill Rd.
New Gloucester, ME 04260
207-926-492; backer@maine.rr.com
Archway Rabbitry. Chris Gurney
Breeds of Rabbits: Holland Lops, Netherland
Dwarfs, Mini Lops, Dwarf Hotots, Polish &
Lionheads
84 Goodwin Road
Minot, Maine 04258; archwayrabbitry@verizon.net

The Barber's Bunnies. Anna Barber
German Angoras and German hybrids
Fiber available
844 Waldoboro Road
Bremen, Maine 04551
abarber@tidewater.net
The Crowing Hen. Barbara Chatterton
Silver Fox rabbits & other
heritage breed livestock
32 Elm Street
Machias Maine 04654
bchattertonluuring@gmail.com

Fainting Wonders. Shelly Wilson
Lionhead and holland lop bunnies
Harpswell, ME
ncdat@suscom-maine.net

Harerazer Rabbitry. Dick Brasier
Californian, New Zealand and Chinchilla crosses
Pets, meat rabbits, and breeding stock
43 Libby Lane
Parkman, ME 04443
207-876-3360; harerazer@msn.com
Jack Rabbitry/Eastern Maine Rabbit Breeders. Ron and Jeanette Jack
Rt. 221
Bradford, ME
Honeysuckle Rabbitry
ARBA Breeder of Show Quality Mini Lops
Other breeds available
10 Gardiner Rd
Dresden, ME 04342
207-798-1889; steph@honeysucklerabbitry.com

Hyde Farm (see full entry under "sheep").

Mcintyre Farm. (see full entry under "sheep").
Peace Farm. Marie Bishop
Home of Bishop's Bunnies Rabbitry
Californians, Creme D'Argents and Netherland
Dwarfs. Hoping to get some rex and angoras.
196 Berry Road
Denmark, Maine 04009
email: bishbun@adelphia.net
Penobscot River's Edge Rabbitry. Tammy &
Ashley Smart
98 Middle River Road
Greenbush, ME 04418
207-827-3032; tktaark@aol.com
Robin's Nest Rabbitry. Robin Hoskins
419 Eastbrook Rd.
Eastbrook, ME 04634
207-565-2770
Rockys Rabbits. Mark Elwell
New Zealand's, both Red and White, Californian, show quality Silver Fox (pedigree's avail),
and cross breed meat varieties.
Bowdoin Maine 04287
rockysrabbits@yahoo.com

Sandy Knoll Rabbit Hole. Kim McCrum
Flemish Giants, French Lops, Belgian Hares, and English Spots
177 Middle River Road
Greenbush ME 04418
207-827-6745; mfd821@msn.com

Stony Brook Farm. Valerie Rice-Grindle
Angora, German and high % German hybrids
RR 1, Box 318-A
Morancy Rd.
East Sullivan, ME 04607-9730
207-422-2201
Sugar Island Rabbitry. Marge Lavoie
Netherland Dwarfs, Mini Rex, Jersey Woolys, Mini
Lops and Holland Lops . Pedigreed and
Non Pedigreed
195 Middle River Road
Greenbush, Me 04418
207-827-7588; Marge7588@aol.com

Tiny Dust Bunnies Rabbitry. Diane Radell
English Angoras, Wooley Angora crosses and
other bunnies.
P.O box 78
Monticello, ME 04758; dradell@hotmail.com;
bunny30@earthlink.net
Underhill Farm. Jenny Smith
French x German Angora rabbits
50 Wilson Rd
Gorham, Me 04038
207-892-2617; jensmith@maine.rr.com